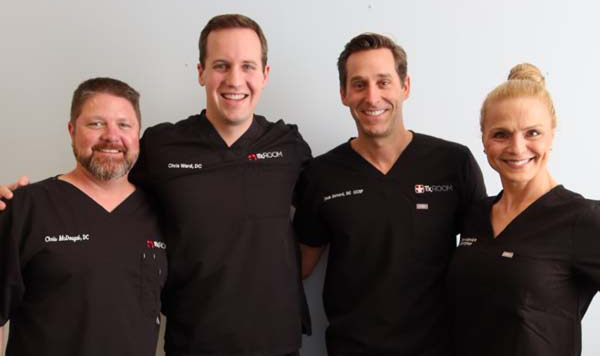 Chiropractor
Chris McDougal D.C.
Dr. McDougal grew up in Conroe, TX and was awarded a soccer scholarship to play at Midwestern State University in Wichita Falls, TX. He played all 4 years and graduated with a Bachelor of Science in Kinesiology and minor in Biology in 1999.
After Midwestern, he attended Parker College of Chiropractic. Dr. McDougal always wanted to get into a profession where he could actively work with people through injuries and he really liked the Chiropractic philosophy that the human body is a self-healing organism and if given the proper direction of care, can do most of the recovery on its own. While in school Dr. McDougal was introduced to myofascial work. A combination of this and years of injuries from playing soccer and not really having a treatment for the various sprains/strains is what ultimately drove him to this area of sports medicine.
In 2013, Dr. McDougal began teaching other Chiropractors, Physical Therapists, and Athletic Trainers the Fascial Distortion Model. He has had the privilege of working with multiple Major League Baseball teams teaching the team trainers how best to treat soft tissue injuries. He has also been independently contracted to work with the FC Dallas players since 2015. "The treatment that we provide here at The Tx Room, is the single best way to get athletes back to sport following an injury. More and more professional and college teams are seeking this specific model for their recovery."
Dr. McDougal has a wonderful wife, Audrey, and two little ones, Callum and Cadence (18 months apart). He still lives an active lifestyle and enjoys running, working out, and playing golf.
Chiropractor
Chris Ward D.C.
Dr. Ward is a Board Certified Doctor of Chiropractic and a graduate of Parker University. Before becoming a Chiropractor, Dr. Ward began experiencing unrelenting back pain. He sought out a Chiropractor for care.
Dr. Ward quickly recognized the effectiveness of a type of care in which you look at how the body moves as a whole unit and not just as a sum of parts. Desiring a profession that focuses on serving others, Dr. Ward saw that being a Chiropractor was his calling. His constant pursuit of knowledge keeps him always looking to further his ability to help his athletes. He holds many certifications including Fascial Distortion Model, Active Release Technique, Titleist Performance Institute, and Professional Golfers' Association/Professional Sports Care.
Dr. Ward has a passion for treating all athletes but holds special certifications in treating golfers. This lets him analyze your movement patterns and how that might aspect your swing. This not only helps treat and prevent injuries but improves golf performance. In his free time, Dr. Ward loves spending time with his wife, Ashley, and his kids, Ezra and Tripp. When he is not with his family, you will usually see him at the gym or at the golf course.
Certified Chiropractic Sports Practitioner
Zachary K. Bernard D.C., C.C.S.P.
Dr. Bernard is a recognized specialist in the field of sports medicine as a Certified Chiropractic Sports Practitioner. He has spent his professional career furthering his education with post-graduate experience in the field of musculoskeletal medicine and pain management.
PROFESSIONAL
His practice primarily focuses on hands-on techniques designed to restore function and reduce pain. He specializes in musculoskeletal complaints and soft tissue injuries that often occur while playing sports, being active, or with repetitive movements (or lack of movement). The types of manipulations that Dr. Bernard uses are designed to stimulate healing in the involved tissues helping to reduce the time between injury and recovery. This allows him to achieve the goal of getting people back to the activities and sports they love faster. This is what has driven him to focus on the area of sports medicine.
---
PERSONAL
Dr. Bernard lives by the motto "be active, stay healthy." He is a believer that staying active, even in the later years of life, can have endless benefits that translate into a physically and mentally healthy body.
He is a devoted husband to his beautiful wife Melissa. They enjoy spending as much time outside as possible. Together, they enjoy a variety of activities such as skiing, golf, basketball, and volleyball.
Dr. Bernard wants his patients to know that his goal with each patient is to tailor a treatment plan specific to their needs; no one treatment plan is the same in his mind. He prides himself and his staff on providing the highest quality of treatment and service.
---
EDUCATION
UNDERGRADUATE
University of Oklahoma
GRADUATE
Parker University School of Chiropractic
Southern California University of Health Sciences
---
BOARD CERTIFICATIONS AND PROFESSIONAL SOCIETIES
Dr. Bernard is board certified by the American Chiropractic Board of Sports Physicians as a Certified Chiropractic Sports Practitioner. He is a member of both the ACA (American Chiropractic Association) and ICA (International Chiropractic Association).
Licensed Massage Therapist
Cher Milovich LMT, CPT, PN-1
Cher was born and raised in NE Ohio and has over 2 decades invested in spreading the joy of health and wellness. As a Licensed Massage Therapist, Certified Personal Trainer and Precision Nutrition Coach, Cher's North Star is focused on helping others maximize the three things we are all born with: A Mind, a Body and a Lifetime. How you use the first two determines the third. The beauty is that each of us controls our own destiny. Cher combines massage therapy, personal training and nutritional consulting to help you unlock your full potential.
Cher was born and raised in NE Ohio as the youngest of 6 in a sports-minded family. After competing in basketball, cross-country, softball and track at Maplewood High School, she to Glenville State University on a basketball scholarship for the reigning NCAA Division II National Champions. At GSU, Cher received a Bachelor's degree in Sports Management/Marketing while working on an Apprenticeship in Athletic Training for Glenville State University's nationally ranked football team. This inspired a post-graduate career focused on lifting others with her knowledge and passion for health and fitness.
Cher is an A.C.E. Certified Personal Trainer with more than 25 years' experience in individual, group and sport-specific training. Her experience as a National Fitness Competitor drove a deep knowledge of nutrition and led to the pursuit of her Nutrition Coach Certification with Precision Nutrition.
Cher's incredible energy and knowledge of health, fitness and nutrition has enabled Cher to impact hundreds of clients in life-changing ways. Launching her Personal Training App has allowed Cher to maintain a national clientele achieving their health and wellness goals, in spite of multiple family relocations during her career.
The Coronavirus Pandemic flipped the entire fitness industry upside down, but Cher recognized an opportunity to continue the pursuit of her North Star. Cher enrolled at Parker University and became a Licensed Massage Therapist. Her personalized bodywork sessions incorporate multiple modalities of massage. Examples include Deep Tissue, Trigger Point, Myofascial Release, Stretching, Sports Massage and other Therapeutic techniques.
After a brief stint working with Thrive Chiropractic Care in Plano, Cher found her dream home at The TxRoom. Whether you're an elite athlete looking to maximize your potential, a weekend warrior getting back in the game, or a lay person looking to improve your emotional, mental, or physical health, Cher's energy and knowledge can deliver a life-changing impact.
Cher lives in Frisco with her husband Andy and two young athletes, daughters Addison (13) and Dylan (11). Her other passions include dogs and tennis. She's a 4.0 USTA ranked Tennis Player and former State Champion in South Carolina. She also enjoys running, working out and yoga.
OFFICE HOURS
---
Monday
8:00am - 5:00pm
---
Tuesday
8:00am - 5:00pm
---
Wednesday
8:00am - 5:00pm
---
Thursday
8:00am - 5:00pm
---
Friday
8:00am - 2:30pm
---
Saturday & Sunday
Closed